Laura mottan ijokan rellap ilo Majuro Atoll. Ebar mokaj an lon lok armij ilo bukon in Laura. Ebwe an lon lok mon jar ilo Laura rainin jej bukot wot listing in naj post more details on this page.

The soil is so fabulous for agriculture, not really but compare to other part of all islands in RMI. We have the Chinese agricultural grew on contract with RMI government to do more studies on the soil and promote and invend/invest at the same time while seeking new techniques for Marshallese citizens how to promote self reliance and self sufficiency.
THE FOUR COUNCILMAN AND WOMAN FORM LARURA:
1. Mrs. Joubon B. Kabua -
(IOLAP WARD)
Ear jerbal ilo Leagal Services moktalok jen an kar emmakit im jerbal ilo Local government eo.
2. ABIUT SAMSON -
(JEIROK WARD)
Long time councilman from the small portion of Laura Village.
3. Mr. Telbwij Toring -
(LOMAR WARD)
Long time businessman jen aelon in Majuro im elap an kate kin bukon eo an ilo Laura bwe en jab jako aebojoj eo an beach eo ilo Laura. The only beautiful sandy beach in Majuro.
4. Mr. Joseph Bigler -
(LOBAT WARD)
Kar kadiwiojlok jen University of Hawaii im elikin ear kabjijer jerbal eo einwot juon dri jiban ro ilo Ministry eo an Foreign Affairs ilo jidik ien im elikin ejja ilo ien in wot ebar komman jet an kakobaba in jerbal einwot juon coucilman jen bukon in Laura. Kio ej jerbal ilo Marshall Islands Trust Company eo im larrik eo jein emoj an kamoje bwe en etal in baj kadredre ik lok an jikul ilo State of Oregon.
Wonmanlok ko jen Ajiri in Laura

Juon ian leddik ro jen bukon in
Laura Mellisa Laelan
ewalok ilo news kin men ko ejeja an kora in Marshall im lal ko jet maron wojake ilo ad keidi lok nan eddo ko an juon emman (males). Lale bwebwenato eo ilo kajin English ilo Front page an Majuro Online. (Lieo em jab idikin jela en an, Leddik in Laura ilo Majuro) - Ne ejab komaron loe ilo Marshall Islands Journal page eo:
NEWS IN LAURA

Mon komman nuknuk ilo Laura
emoj an jino eboktok drikabel ro jen lal ko ilikin nan aer katakin ro ilo Majuro ikkijien komman nuknuk ilo mwin ej kab naj bellok. CEO eo Jerry Krammer ej ba 19 armij emoj aer boktok er nan kommani jerbal kein ikkijien katakin dri Marshall rein renaj jerbal. Naj katakin 40 armij ilo naj Laura ijin ebed mwin ie. Rejet in mwin ej bed iumin karak eo an Ministry eo an Jelalokjen im ej kejerbal nan kilaj room nan jikuo eo ilo Laura. Ejjanin ijjino jerbal in ako emoj an jino company ko ilo America jino komman aer order. Ej kab dredre lok aolep kotobar kein an Iruwaki im PII kin wonmanlok kein an Laura im Majuro Atoll.

Iruwaki Kendall!

IRUWAKI KENDALL EJ ERRA ILO ELMOKOT EO AN PII NAN KEJERBAL MON NUKNUK EO ILO LAURA NAN JIKUL IM JERBAL KO JET AN JELALOKJEN (M.I.JOURNAL 1/18/02)

Grand opening of new cop shop - New Public Safety station just finished in Laura built by the funding from the Republic of China. MIJournal 2-02-2002

'MAJURO DAY" FEB 16, 2002 TO BE HELD IN LAURA...BE PREPARE!
Majuro Day Activities :
Vice Speaker Iroij Jurelang Zedkaia - speech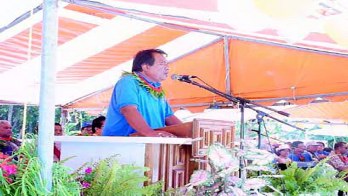 Raising of the Majuro Atoll Flag and RMI National Flag