Kwajalein News


News Details:
MARCH 01, 2002

FIRST HIGH SCHOOL FOR UNITED CHURCH OF CHRIST IN EBEYE WILL BE "GRAND OPEN" ON EBEYE MARCH 16, 2002. PART OF THE DEVELOPMENTS OF LATE REV. PIJJA MATAUTO JUST COMPLETELY FINISHED BY HIS REV. LOTION MATAUTO...EBEYE KEWAJLEIN

February 22, 2002

Clements take out one, two in big Ebeye race "
The traditional canoe races held earlier this month on Ebeye were a "fantastic success" said Waan Aelon in Majol's Alson Kelen. Nine canoes were shipped up to Kwajalein Atoll on Jeljelat Ae on February 6, with the races being held on February 9 and 11. " Lots and lots of people turned out to watch the races off Ebeye Islands" said Kelen. Winner of the Class One race was skipper Clana Clement, with his Brother Tiem coming in the second. In the larger Class 2 race, first p[lace was taken by skipper Liton Beaja, with place two going to Morton Jikit. As well as the skippers and their canoes being skipped to Ebeye, V 7AB " the voice of the Marshall Islands, and WAM trainess made the trip to Ebeye. As luck would have it, the marlin were biting on the way north and the lucky lads hauled in a big one which they traded for refreshments.
(ON the way to Ebeye Jeljelat Ae crew catch few Marlins)

February 22, 2002


Note off to Ebeye for grand event:
After several delays, the official opening the new Ebeye Hospital will happen this Saturday, with President Kessai Note expected to lead a large delegation from Majuro for the event. The $10 million, 33 bed hospital is to be officially opened late aftgernoon Saturday to be followed by hosted by Kwajalein leaders at Mon LaMike. Note is heading a delegation that is to fly to Kwajalein Thursday morning with briefing with the US Army command. Will later meet with Kwajalein leaders and landowners Friday evening and a tour of Kwajalein Atoll. Before returning to Majuro, he will attend a Sunday Service at Kwajlein pay special tribute to September 11 attack victims at New York Trade Center.

February 8, 2002

OFFICER OF THE YEAR - EBEYE, Kwajalein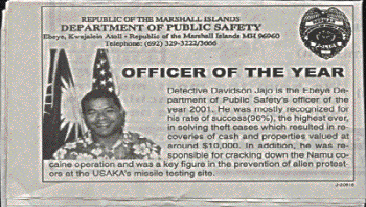 Detective Davidson Jajo is the Ebye Department of Public Safety's Officer of the year 2001. He was mosltly recognized for this rate success (96%), the highest ever, in solving theft cases which resulted in revcoveries of cash and properties valued at around$10,000.00. In addtion, hea was responsible for cracking down the Namu Atoll cocaine operation and was a key figure in the prevention of alien protestors at the USAKA missle testing site.

February 01, 2002
Time to talk

For several years, Kwajalein landonwers and the RMI government have danced around the questions of what to do with Kwajalein in the negotiations with the U.S over extension of Compact funding. Who represents the interests of the landowners has been a point of contentions since President Notes's administration took over in January 2000 - but it's also an issue that dates back to the beginning days of the RMI itself and the push and pull of islands politics abetweeen Majuro and Kwajalein. Questions leading the debate: How much is Kwajalein worth to the US? For how long should the lease agreement be extended? can Kwajalein get more rent, trust fund, contributions, aid for Ebeye generally and the displaced Mid Corridor population specifically? While there has been much talk about these issues, no concrete proposals have been put on th table- until last week. Under the gun of a tight timetable for negotiation a new funding package, the RMI fired off a proposal to the US to get Kwajaleinformally on the negotiatin table. Foreign Affairs Minister GFeral Zackios and executive director of Compact negotiations Bobby Muller met with Kwajalein leaders on Kwajalein the week before the proposal went to US chief negotiator Al Short. The head of the Kwajalein landowners organization isn't objecting to it, but he is also saying that they're not ready to make a committment to the RMI proposal or a US response. Senator Chirstopher Loeak, chariman of the recently formed Kwajalein Negotiation Commission (KNC)."
We want a fair deal Kwajalein, something that's really helps the people." said Chris. But he added, " We're not ready for a committment". ...
Males win in Ebeye

After a three day trial on Ebeye an all male jury took about 40 minute to verdict of not guilty of rape for defendant Lele Tatios last Friday. Tatios 22, had been charge with raping a 15 year old girl last year. Despite prosecutor Richard Hickson's presentation of what he described as "strong medical and circumstantial evidence that pointed to the guilt" of Tatios Public Defender Danel Gounder won over the jury by convincing them that Tatios did not use force and that girl agreed to have sex with him....


02/02/2002
Kwaj bone team digs up remains -
Dr. Greg Fox says there are a lot of reasons for him and the rest fo the team from the US Army Central Idendification Laboratory in Hawaii to be optimistic as they continue the search for missing US sevice members believed buried here during WW II...The main objects of he search are nine US Marines believed to have been executed by the Japanese in 1942. The mass grave may also contain the remains of several US ari crews that were forced dwon in the Pacific.

02/01/2002 Search turns up results -
A year ago, the US military's CIL in Hawaii identified the remains of about 20 US Marine Raiders who had died during an attack on the Butaritari (Makin Island) Kiribati in 1942. (M.I.J) by Peter Rejcek -Kwajalein Hourglass

2/01/2002 -
Drug trial: Jeadrik, Boro not guilty
- Abon Jeadrik and Benson Boro were cleared of drug charges by a High Court jury following a trial last week in Majuro. They had both been charged with conspiracy to possess narcotics. Boro was additionally charged with possession of narcotics and Jeadrik with attempt to possess narcotics. The drugs in questions was lab tested as cocaaine. Last year, Boro gave a passenger heading to Kwajalein a package that he said was for Jeadrik. the passenger threw the package in the waste basket at Amata Kabua Internation airport and reported the matter to police whose investigation led to subsequent criminal cahrges. the package contrined cocaine. During the several day trial, Boro indicated that an unidentified Marshallese man had given him the packeage in a taxi. The jury of three men and one woman found both men not guilty of all charges.

Home Loan program starts on Ebeye -
The US Rural Development program and Marshall Islands Development Bank officially opened their new office building on Ebeye this week Tuesday. It marks the first time that Rural Development housing loans, in conjuction with MIDB programs, will be available to the Ebeye community. US Ambassador Mike Senko, USDA Rural Development regional director from Hawaii Lorraine Shin, and top RMI government and Kwajalein leaders were at the opening.
JOURNAL@NTAMAR.COM