MAJURO@ONLINE - APRIL 22, 2002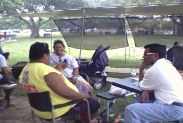 CONSTITUTION DAY 2002 Basketball Schedule

INDEPENDENCE DAY MARSHALLESE HONOLULU COMMUNITY

May 4, 2002 Saturday at Ala Moana Park and Stevenson Intermediate School




May 23, 2003 - Latest from the Honolulu Constitution Day committee regarding the Men Basketball championship, both the title and the reward of $400.00 were cojammed. However, the money will split to both team as well as the Title, respectively. There will be a picnic for all the teams involved end of May 2002. The next meeting will be on May 29, 2002. Finally, there will be a All Star team pick mostly from the best two teams from the Men Basketball championship to play with the RITA Hawk Men Basketball team on their way from Arkansas. The All Star team from Hawaii consist of the best players from each team and most of the best players from the Ebeye and Waihawa teams. Joij im kobatok im alwoj e ikkure in ikotan Rita Hawk im Honolulu All Star ilo naj Week in lal. Kojjela in ej itok im iwoj jen Coordinating Committee eo am Constitution Day 2002 - Mr. Justin Lani

May Day 2002 Basketball Tournaments results:

We were honored that our First Lady Mary Note from RMI was able to joined with us commamorating our 23rd anniversary of our Constitution. Following the speech by First Lady and opening prayer from Rev. Reinseper Lalimo, our day continued with tremendous amount of events. With an estimation of 2500 or more including kids joined the event. Businessman Jerry Krammer and Mercy with Minna Reimers and kids also joined with the crowd at Ala Moana Park. Former President Imata Kabua and former Minister P.Muller with families, freinds were on the opposite site celebrating as well as "kolok" of one of the Iroijlaplap's grandson.

Men Basketball results: Waihawa Julul with a 4 second left able to manage a three point shot and defeated the Makiki with a one point lead. Waihawa later on their second game able to shut the Maui team. The unfinished game between the Waihawa and Ebeye will continue on Monday May 6, 2002 at the Lanakila Basketball court.

Girls Volleyball will continue between Waihawa Girls and its opponents (Unnamed team) along with the Basketball games.

Mens' Volleyball championship went out to the Salt Lake boys. Going home with $200.00 cash.

Tug of war, the best walker, and other games held on a beautiful Saturday afternoon. There were lots of booths around from family members, churches, organizations, etc from all the 4 corner of Honolulu.

THE GOLDEN DAY - SATURDAY MAY 4, 2002 - MOST OF THE ACTIVITIES HELD AT THE ALA MOANA BEACH PARK.

EVENT KICK OFF AROUND 10:00 AM AND CONTINUTE UNTIL 6:00 PM. HAPPY BITRTHDAY RMI CONSTITUTION SINCE MAY 1, 1979. In great honor and memory of all the framers who spend their valueable times at the basement of the Assumption Catholic Church in Uliga, arguing, drafting, reading, writing, extracting, copying, comparing, reviewing, deleting, and in fact the most of all using both doctrine of the PRESIDENTIAL SYSTEM AND PARLIMENTARY SYSTEM AND ABLE TO CONVERT THEM INTO A UNIFICATION SYSTEM THAT WOULD MEET ALL THE CHARACTERISTICS OF LIFE IN REPUBLIC OF THE MARSHALL ISLANDS. OUR CONSTITUTION IS BASICLY BASE ON OUR TYPE OF CULTURE AND OUR POSITION IN REGARDS TO RELIGION. JERAMMAN NAN KIJWOJ KAJOJO! THERE WILL BE BOOTHS ALL OVER SELLING MARSHALLESE DISHES AND SMALL ITEMS SUCH AS LUKOR, AIKIIUU, MOKONDRUUL, AND MANY MORE...YOU NAME EM. COME JOIN WITH THE RMI COMMUNITY IN HONOLULU CELEBRATING OUR CONSTITUTION DAY! IT'S NOT A POLITICAL PARTY DAY! IT'S A MARSHALLESE CONTITUTION DAY! THEREFORE, IF YOU ARE A BLOOD OR CONSIDERED MARSHALLESE IN ANY WAYS, PLEASE COME JOIN...ON BEHALF OF THE CONSTITUTION DAY 2002 COMMITTEE, THANK YOU AND GOD BLESS THE TINY NATION. MAJURO@ONLINE

SOME OF THE FRAMERS : Late : Amata Kabua, Namo Hermios, Matoojela, Beaja Peter, Atalan Anien, more to come...

May 4th 2002 Basketball Schedule:

[ Ebeye vs. Maui I ] [ Waiahwa Julul vs. Maui II ]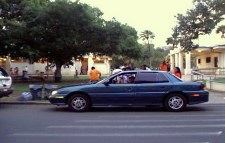 Friday May 3, 2002

Winner of this game will play with Maui visiting team I and looser will play with Maui II.

Championship Game! Winner from Thursday Games! Makiki vs. Waihawa Julul

Thursday May 02, 2002 (Final Four)


Ebeje put to sleep the Makiki with a close score 47 Ebeye and 41 Makiki


Waihawa Julul change the color of the Jemeluit

Wednesday Games: May 01, 2002

Jemeluit was put to sleep by the Makik team

And One swollowed by Waihawa Julul

Tuesday's Games: April 30, 2002

And One 55 knocked out its Neighbors 37

Waihawa Julul 48 crushed the Waiphau 46

Monday night April 29, 2002 evening.

And One 54 def. Bukot nan Jesus 48

Ebeje 49 def. Waipahu 40

April 29, 2002


And One (Kelen and Yobi team) vs. Bukot nan Jesus (Berney and Ranson) Team 7:30 p.m. at Stevenson Outdoor Basketball courts. (First Game)7:30 pm And One def. Bukot nan Jesus


Ebeye Team vs. Waipahu I Team (Second Game)8:30 pm Bobby's Team Ebeje def. Waipahu II

Team met the double elimination are: Dribitz, Watakle, Neighbors, and Waipahu I- how do we name this "SHUT OUT" ore what!

April 27, 2002 Saturday

Jemeluit vs. Waihawa Julul (Jemeluit 56 Julul 50)

And One vs. BNJ (Rainout and postphone for Monday 4/29/2002)

April 26, 2002 Friday

Games Rainout - no games.

April 25, 2002 Thursday

And One 58 def. Pearl City 52

Jemeluit def BNJ

April 24, 2002 Wednesday

Jemeluit def. Waipahu II

Neighbor def. Dribitz

Wednesday April 24, 2002

First Game: Jemeluit vs. winner of Monday's Waipahu

Second Game: Loosers from Monday and Tuesday's game
Tuesday April 23, 2002

First Game: Waipahu vs. Dri-Bitz winner was Waipahu

Second Game: Pearl City Dri-Lotobo vs. Julul winner was Julul

Monday April 22, 2002

First Game : Ebeje vs. Neighbor winner was Ebeje

Second Game: AND ONE vs. Makiki winner was Makiki

Thursday 4/25/2002 - Meeting at the RMI Consulate Office or patient house at exactly 7:00 pm right after the meeting the continuation of activiteis held at Stevenson Basketball courts. And the outcome as follows:

Game between And One and Pearl City Watakle continued Thursday Nite and winner was And One

score was And One 58 and Watakle 50.

Referee : All referee are all on volunteer basis selected from each team.

Name of Referree:

Junior Matsumura
Robbie Batol
Gibson Maddison
Bobby Bobo
Yobi
Kenny Note
Darrel Kattil
Endo Kumtak
Tilan deBrum
Telmong J. Kabua
Carlo Note
Paul Capelle
Note: All teams must wear the same color uniform or will forfeit

There will be games on Friday and Saturday following the results of the meeting on Thursday.

Your participation is very important. So come and lets celebrate our Constitution Day the best way we can and that is thru Basketball.

Games will be held at Stevenson Intermediate School Outdoor Courts. 7:30 p.m. to 9:45 p.m.

RMI HONOLULU AND COMMUNITIES WITH MAJURO@ONLINE



Latest for the best of two to meet with visiting team from Maui:

Two Visiting teams from Maui will arrive Honolulu Thursday and Friday May 2-3, 2002.

1. Jemeluit 2-0 Mr. Preacher Balos team (Couch Anderson Thomas)

2. Ebeje 2-0 Mr. Bobby Bobo team

3. Makiki 2-0 Mr. Bakka Matthew and Beio team

4. And One and Waihawa Julul (May 1, 2002)

The prices for Men Basketball tournament are as follows:

Number one winner go home with $500.00 or more depend on tickets sold.
Number two gets $300.00
Number three gets $200.00
Main sports activities for MAY DAY 2002 will concentrate mainly on Volleyball and Basketball.
All other activities will held at the Ala Moana Park on May 4, 2002 follow by speeches from visiting RMI government dignitaries and leaders from Churches, Manit and RMI Communities within the State of Hawaii. Please contact Mr. Justin Lani and Mrs. Gloria Heine at the RMI Consulate for more details on MAY DAY 2002.
Note: Raffle tickets are on sale for $3.00 a ticket and can buy from RMI Staff and members of the May Day Committee. Prices are:
1. $500.00
2. $250.00
3. $150.00